Metal Stamping
Sheet Metal,Metal Parts, Mechanical Parts, Electronic Components, Vehicle Accessories.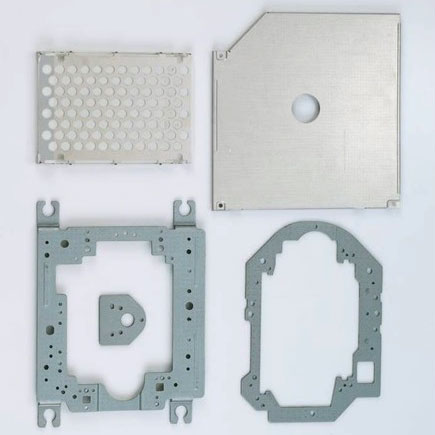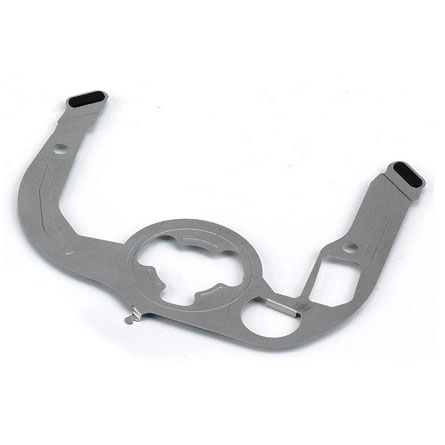 Metal stamping is an important manufacturing process its can according that what need shape and features to stamping. Its advantage are high production rate, consistent and low cost. Its technology are apply in much industry such as automotive, heavy industry, Electrical and Electronics industry, electronic components, hardware fittings and Vehicle Accessories.

FORESHOT could do: Design and development of continuous stamping、Stamping tool components、Design and manufacturing of continuous stamping tool、 various stamping metal parts、Sheet Metal、Sheet Metal Fabrication and Mechanical Parts.

With Metal Stamping unit established for years, FORESHOT is continually upholding the attitudes of "client satisfaction" and "make our clients more competitive" to make efforts in development and product improvement. Therefore, to present our products are with the best quality and excellent service to our clients. The Metal Stamping Unit of FORESHOT was certified with ISO 9002 in 2000.
FORESHOT Metal Stamping Process Flow
In metal-stamping process, it is important to stamp the precise product based on customer requirement.The stability of the metal forming process is normally dependant on the material and process parameters.
A slight change in a process parameter, like material properties or lubrication condition, can produce a defect that can damage the tool.
The quality practitioners and production operators must aware any unnatural variation (UV) during in-progress process to avoid defective products. FORESHOT metal stamping process flow,as shown in the following picture.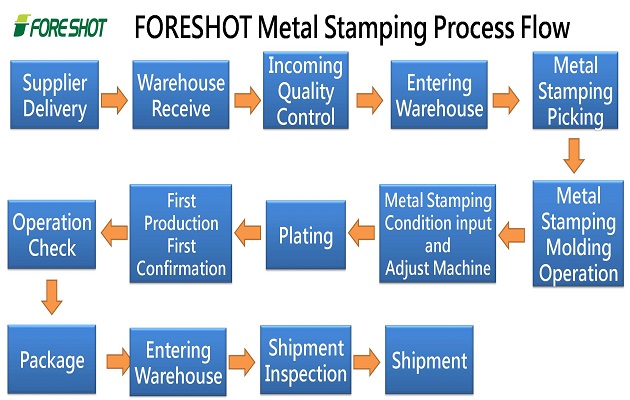 Features
A lightweight, highly rigidity product is available.
Good productivity and suitable for mass production.
A product of uniform quality can be obtained.
High material utilization, good tailorability and recyclability.
Foreshot Capability of design and manufacturing
Design of stamping tool components.
Design and manufacturing of continuous stamping tool.
Stamping OEM.
Design and development of continuous stamping.
Various stamping metal parts.
Other metal stamping manufacture and design.
Gallery

Related Products

---

Surface-Mount Technology (SMT) is a term for a relatively modern style of printed circuit board design. The vast majority of commercial electronics are all about complex circuitry fitting in small spaces. In SMT, instead of putting wire leads into holes drilled in the circuit board, components and elements are mounted directly onto the surface of the board. Due to its efficiency and effectiveness, SMT has widely replaced through-hole technology methods for constructing PCBs.FORESHOT provides One-Stop shopping service from material procurement to assembly service. FORESHOT also offers the services of grouping and machining of product processing such as SMT / DIP PCB grouping, spray painting and printing, product assembly, packaging, SMT Assembly,SMT Process, EMS(Electronic Manufacturing Services) and Electronic Components etc. In addition, we have test service for PCBA (Printed Circuit Board Assembly) and final goods test.

---

---

FORESHOT has great experiences from mold design to assembly service including SMT, PCBA, EMS, plastic product injection, precision plastic parts manufacturing, metal stamping, glue dispense, Ultra Sonic Welding, Ultra Sonic Parts Cleaning, and Product Packaging, With its consistent manufacturing flow service, FORESHOT enables the perfect realization of producing products from scratch for clients.

---

---

Over the past few years, the demands for plastic injection products have seen considerable increase in consumer electronics products, transportation applications, medical supplies, etc. With the advanced development of precision machine and fast progress of plastic injection technique, progressing from general injection mold to micro injection mold manufacturing, the standards of precision and quality for the completed products of small Precision Components、Electronic Components、Computer / Communication / Consumer Electronics and Vehicle Accessories etc..FORESHOT is dedicated to the development of precision plastic technique and processing, improvement of precision mold, and advancement of plastic object measurement technique, to provide its clients the products with high added value and competitiveness.FORESHOT using precise molds and advanced Sodick V-Line injection machine and JSW high-speed injection machine to produce and control each item in micro level.

---

---
Top News
FORESHOT Received an Excellent Vendor Award from Leica in 2018

Received an Excellent Vendor Award from Leica in 2018

Read More

FORESHOT import automation system which can increase capacity

In order to provide high-quality products that satisfy customers, we have designed and developed a robotic intelligent production line dedicated to our customers' products.

Read More

FORESHOT Received an Excellent Vendor Award from AVAYA in 2018

Received an Excellent Vendor Award from AVAYA in 2018.

Read More