R&D Team
RD team of FORESHOT have Product Planning、Industrial Design、Mechanical Engineering、Electronic Engineering、Optoelectronic Design、Acoustic Engineering for Plastic Injection Molding and EMS(Electronics Manufacturing Services).
The research and development team of FORESHOT is professional in Product Planning, Industrial Design、Mechanical Engineering、Electronic Engineering、 Optoelectronic Design、Acoustic Engineering. According to requirement of product, we have top ability of research and development and technology of mold design to efficiently complete any type of shape or surface.


In addition, we can provide product development and complete solutions to mass production, which satisfies the needs throughout the entire product manufacturing, achieves precise cost control, and utilize the maximum production capacity.
Foreshot R&D TEAM have three parts:Research & Design Services、Technical Development Engineering、Manufacturing Engineering: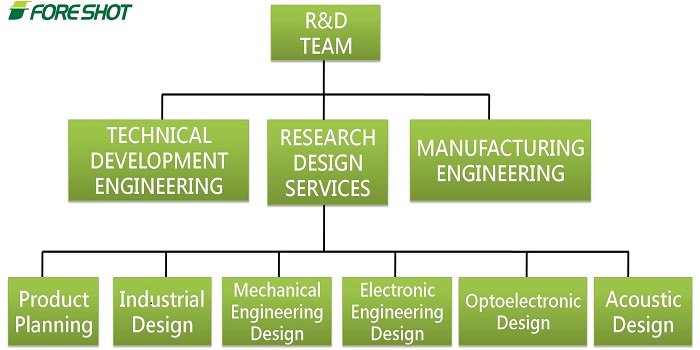 Servizi di ricerca e progettazione
● Product Planning: new product services including analysis, design, cost estimation and pricing, marketing planning, and integration of development flow.

● Industrial Design: product exterior design and color matching plan.

● Mechanical Engineering Design: structural designs of metal and plastic products, post machining processing of various parts, product test, and mold development.

● Electronic Engineering Design: circuit design, application integration, and testing of electronic product hardware.

● Optoelectronic Design: optical design of high brightness backlight module, optical design of LED packaging, and designs of automobile headlight and outdoor lighting.

● Acoustic Design: design and fabrication of electroacoustic devices and design of sound effect products.
Ingegneria dello sviluppo tecnico
● Assist clients in development analysis and study of new products.

● Assist clients in the development of manufacturing techniques of new products.

● Provide clients the solutions to address issues in process techniques.

● Research and development of plastic production technique (e.g., bonding technique and plastic forming).
Ingegneria manifatturiera
● Assist clients in the development and manufacturing of molds for new products.

● Assist clients to uncover the blind spots in structural design of products in advance to facilitate smooth and speedy development of mold and clips fixture and address related issues before moving to mass production.

● Provide clients with implementation of new techniques to new products.

● Provide the technique of production by automatic injection molding.

● Assist clients in testing, assembly, functional verification, problem solving and eventual introduction to mass production.
Le notizie più importanti
FORESHOT Received an Excellent Vendor Award from Leica in 2018

Ha ricevuto un Excellent Vendor Award da Leica nel 2018

Read More

FORESHOT import automation system which can increase capacity

Al fine di fornire prodotti di alta qualità che soddisfino i clienti, abbiamo progettato e sviluppato una linea di produzione robotica intelligente dedicata ai prodotti dei nostri clienti.

Read More

FORESHOT Received an Excellent Vendor Award from AVAYA in 2018

Ha ricevuto un Excellent Vendor Award da AVAYA nel 2018.

Read More